Best ways to get Ivermectin
For anyone trying to find Ivermectin it can be extremely difficult to get. Many doctors will not prescribe Ivermectin for fear of being harrassed by medical boards. And even if you get a prescriber who is willing to prescribe Ivermectin, which is safer than Tylenol, you still have to get a pharmacy to fill that prescription. Depending on where you live that can also be a massive challenge. Based on our research we have put gother a list of our recommendations. We break it into three sections. Each option is given a grade based on our research.
MyFreeDoctor.com
Best National Prescriber
Donation Based and Treated Over 200k patients
MyFreeDoctor is lead by Dr. Ben Marble. It is an organization that is Faith Based Organization whose mission is to "deliver Free Doctor visits to those in need consistent with Christian values." They have treated patients in all fifty states and not only champion early treatment for people suffering from COVID-19 but they have a list of conditions that they will treat as well. These conditions include: Allergies, Allergic Reaction (non-emergency), Insect Bite, Urinary Tract Infection, Diabetes, etc. See Complete List!
Pros
Price
MyFreeDoctor is a donation based service. "The suggested donation is $125, but we do not charge a set fee for a basic text consult. If you cannot afford a donation, our physicians will still treat you and send prescriptions to your pharmacy. Please check with your pharmacy to determine medication costs."
Endorsed by AAPS
Dr Ben Marble has built a system that has helped tens of thousands of patients. MyFreeDoctor.com is endorsed by the Association of American Physicians and Surgeons.
Cons
Turn Around Time
Offering services for free means that there is a huge demand for these services. Since demand is so high, and the team of doctors is volunteering their time, means that wait times are longer than other options on this list. If you are short on money and can wait this is the best national telemedicine route.
Screenshot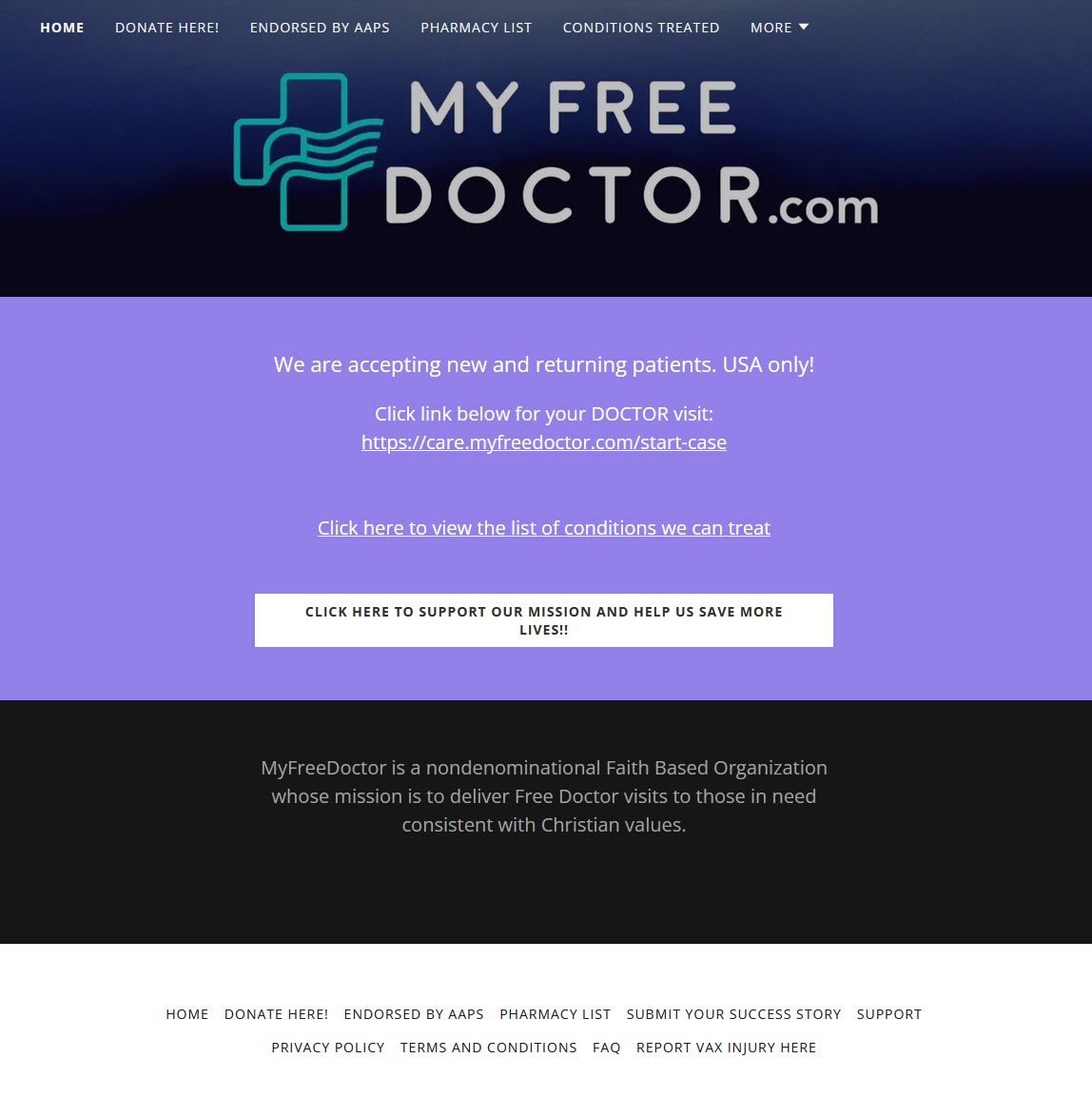 FaithHopeLoveMedical.com
Best National Prescriber
Fastest Prescriber
This medical practice is based in Florida and has a very efficient process. If you are not currently sick they also provide provide a prophylaxis protocol for Ivermectin. (Also one of the providers that will prescribe Hydroxychloroquine).
Pros
Speed
They have built a system that is very efficient. It takes approximately 8 minutes to fill out your medical history and other information. They tend to be able to review and make a decision on prescriptions request in 12 hours.
Availability
They have some of the best availability. Serving patients seven days a week and fifty-two weeks a year and you can even contact them on holidays.
Cons
Price
Each individual who submits their health information is charged $75, this does not include the prescription(s). There are cheaper options, especially if you live in Tennessee, but overall the price is middle of the road if you need a prescription to get Ivermectin.
Screenshot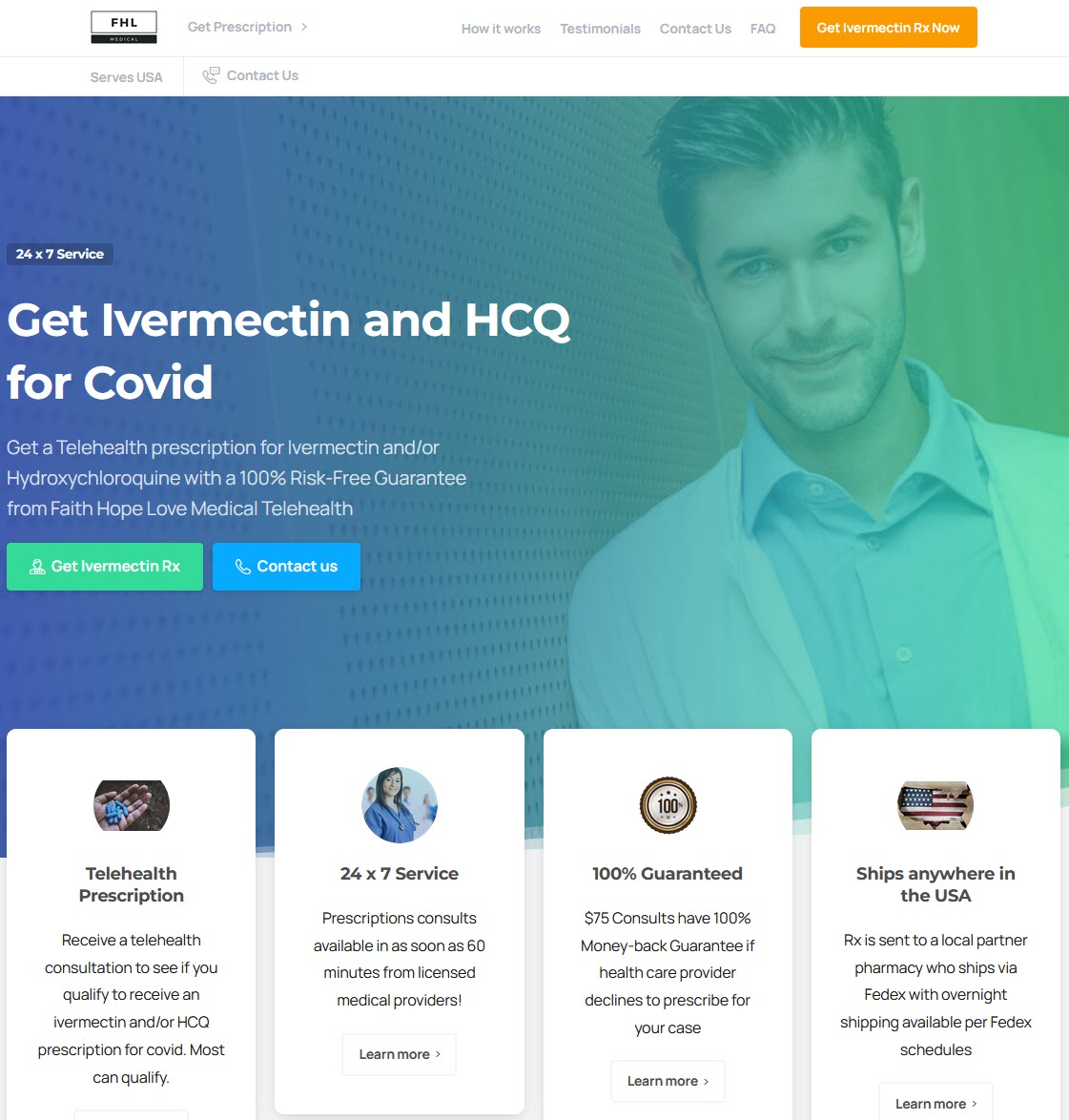 SevenCells.com
Good National Prescriber
Upfront Pricing and Easy Pharmacy Fulfillment
This online option has one of the easiest options to see navigate and see the total cost you will end up paying because they are primarily a compounding pharmacy.
Pros
Website
The website is intuitive and very easy to use. One of the most unusual aspects to SevenCells is that they provide the cost of not only the prescription but also the medication in a transparent upfront manor.
Mutliple Options Available
There is a variety of medications that you can get including: Ivermectin, Nitazoxanide, Methylprednisolone, Azithromycin, and others.
Cons
Time
Directly from their website "1 business day for prescribing physician to review. Once approved, it will take 1 business day to compound and fulfill. Once shipped, your selected shipping method will take into effect."
Screenshot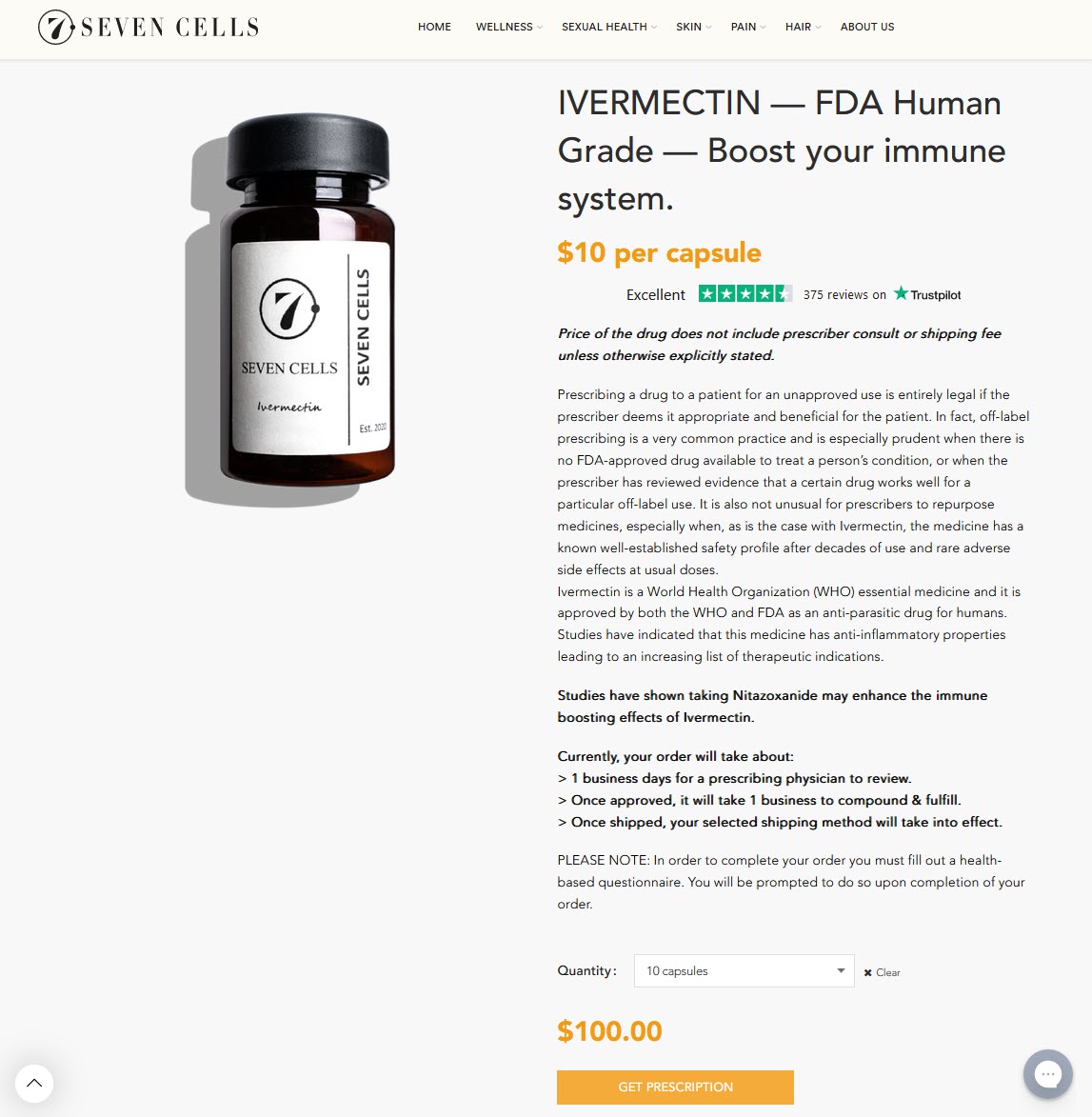 Tennessee
Best Local Option
Fastest and Cheapest Option
On April 22, 2022 a bill was signed by the Governor of Tennessee, Bill Lee, allowing Ivermectin to be purchased at a pharmacy without a prescription. The bill states "a pharmacist, in good faith, may provide Ivermectin to a patient who is eighteen (18) years of age or older pursuant to a valid collaborative pharmacy practice agreement containing a non-patient-specific prescriptive order and standardized procedures developed and executed by one (1) or more authorized prescribers." You can learn more about the bill here!
Pros
Price
Since this law came into effect you now don't have to pay for a doctor's prescription. Depending on where you live and/or which telemedicine service you are using the cost of a getting a prescription via a doctor is about $100.
Speed
You don't need to have a doctor's prescription so you can start contacting pharmacies right away to find one that is taking advantage of the new legal opportunities.
More States Joining
The legislative process can be rather slow and there can be unanticipated bumps along the way. For example New Hampshire has a bill, very similar to the one in Tennessee, that has passed both the State House and State Senate. However, in order to become law it needs the Governor's signature. You can the latest legislative updates on the New Hampshire law here.
Cons
Geography
The main drawback to this option is that unless you live within or near this state you can't take advantage of this deal. Also not every pharmacy, even if they are aware of the law, will take advatnage of this legal milestone. Call ahead so that you don't have hassles at the pharmacy.
Good Option
Local Prescribers @ FLCCC
Best Database to find Providers
Excellent Source for Finding Independent Physicians
FLCCC stands for Front Line COVID-19 Critical Care Alliance. They are the "brains" behind the fusion of medical evidence and clinical experience showing the effectiveness of Ivermectin. Many of the prescribers listed in their national/international database of doctors who prescribe Ivermectin look to the FLCCC for leadership on any issues related to Ivermectin. There database of local/national/international Covid-19 Care Providers can be found here.
Pros
Great Local Options
If you have a desire to sit down with a medical provider none of the options above would work. However, you can search the database at the FLCCC by state and there are providers who will meet in person.
Cons
Non Vetted List
As stated on the FLCCC's website the "list of doctors and medical providers is ONLY a collection of information offered as a convenience. It is neither a recommendation of the provider nor a verification of the provider's qualifications or practices, medical or otherwise..."
Time
The amount of time it takes to investigate the hundreds of options that are listed on the FLCCC can be a very time consuming process. Once you find a provider there is a huge variety on how much additional time it will take until you receive a decision on whether you will get a prescription for Ivermectin.
Screenshot